System
My Perfect Colon is an innovative device that will allow you to cleanse your colon (recto sigmoid) in the comfort of your home in a simple, practical and effective manner, allowing for an immediate evacuation and a deep cleansing.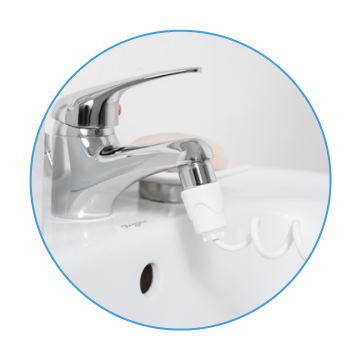 Thanks to its filter, My Perfect Colon easily and quickly connects directly to the bathroom faucet (washbasin, bidet or shower), allowing you to perform an intestinal cleansing while comfortably seated on your toilet.
Ideal for correct intimate rectal hygiene, My Perfect Colon functions without batteries or electricity and is extremely easy to use thanks to its innovative technical characteristics that make it a product that is cutting-edge.
Using My Perfect Colon is delicate and painless. Drugs are not used, just water or, if you prefer, the Phyto Regula concentrated solution, which consists of mallow and chamomile extracts.
Thanks to the natural power of water, My Perfect Colon softens and helps to remove hardened fecal waste present on the recto-sigmoid walls, freeing it and reactivating its correct functions.
With its very compact size (easily stores in a convenient carrying case included – size: 22x16x6cm), My Perfect Colon can easily be used while traveling thanks to the quick universal ADDY adapter (included in the "Travel" set or purchased separately as an accessory).
My Perfect Colon is available in two versions: CARE and FAST – Discover which version is best for you.
My Perfect Colon is a CE medical device and a product conceived, designed and made in Italy.
(Italian patent - US Patent - Other countries pat. pend.).